11-Year-Old Fights Off Alleged Home Intruder With Machete
An 11-year-old boy is being hailed as a hero after he managed to fight off an alleged home invader using a machete, whacking one of the suspects in the head, authorities said.
According to a press release from the Orange County Sheriff's Office in North Carolina, Braydon Smith, 11, was home alone in Mebane, North Carolina when a stranger knocked on the front door. The man burst in, pointed a pellet gun at him and told Brayon to sit down on the ground and get in his closet. However, the 11-year-old began to worry that the home invader might come back to hurt or even kidnap him.
"I knew I had to act in the heat of the moment," Braydon told ABC 11.
He grabbed a machete he'd purchased using gift cards and snuck back into the living room, waiting for his chance. Braydon's chance came when the intruder dropped the cellphone.
"That's when I picked up my machete and hit him in the back of the head," Braydon said.
Fortunately for Braydon, his plan worked. The intruder, later identified as Jataveon Dashawn Hall, 19, began bleeding from where Braydon hit him. Hall struck back, kicking Braydon in the stomach and in the side of the head while Braydon tried swinging the machete again, this time missing.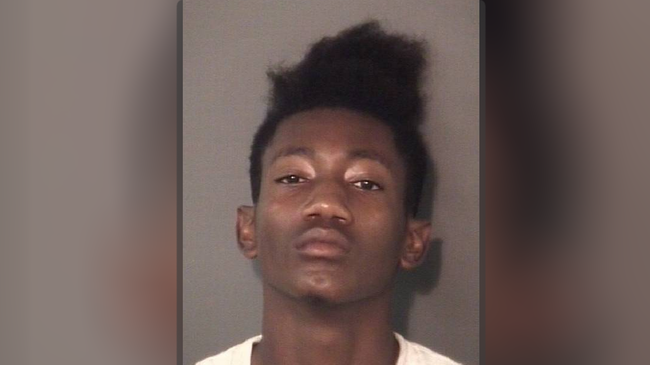 Hall tried to grab a Playstation and television, but dropped the electronics and fled after realizing how badly he was injured, a statement from the Orange County Sheriff's Office said.
"The intruder then kicked the child in the side of the head and turned to grab several items, including a television and a PlayStation. At this point, the intruder realized he was bleeding significantly from the machete strike. He dropped the electronics, exited the residence, and all three suspects fled the home," according to the sheriff's office.
Braydon's mother, Kaitlin Johnson says she was on the phone with her son when the incident began. She says she was able to hear about 12 minutes of the confrontation on her phone until she was able to call a relative who was able to call 911 for them.
Sheriff's deputies were dispatched out to Braydon's location and found him safe and uninjured. Deputies put out an all-points bulletin for the suspect and alerted local hospitals to be on the lookout for someone matching that description who might be seeking treatment for a head wound.
When Hall went to the UNC Hospital in Hillsborough at around 1 p.m. on Friday for medical treatment for a gash on the back of his head, staff alerted deputies to his presence. However, when Hall's condition worsened, he was transferred to the UNC Medical Center in Chapel Hill for further treatment. That's when officials lost track of Hall.
"This patient was admitted to the ED [Emergency Department], but was in the legal custody of the Orange County Sheriff's Department which did not place an officer with him," Bridges said. "In similar situations, hospital staff will often alert law enforcement personnel when a suspect patient is discharged, but they remain the legal responsibility of law enforcement.
The sheriff's office says they alerted the hospital to let them know before they discharged Hall. According to a statement from the sheriff, deputies were planning to "pick Hall up and take him before a magistrate where warrants would be served."
But, Hall beat them to the punch and walked out of the hospital at 8:23 p.m.
"It is the responsibility of law enforcement to closely monitor the status of suspects in their custody while those patients are receiving medical treatment," hospital spokesman Phil Bridges said in a statement. "UNC Hospitals personnel are working with the Sheriff's Department to offer them assistance in this matter."
Hall was arrested by Burlington Police on Sunday at his mother and stepfather's home in Burlington, N.C. He was taken before a magistrate who placed Hall under a $100,000 secure bond. He's currently being held at the Orange County Detention Center.
Police are still working to identify two other suspects who have not yet been arrested.
Photo: Orange County Sheriff's Office